Click on the Picture for Full Description of Product
Clicking on the picture will reveal all you need to know about the product including its full description, size and ingredients.
Dietary Needs Search
This is a very useful filter so you can quickly identify food items that will suit the particular dietary requests of your guests and colleagues eg "I need to avoid dairy" or "I cannot eat gluten". Before using this filter you should read the allergens and food safety statement so you understand want the search categories mean.
You simply click on as many categories as you require and the app will eliminate those items not suitable for your guests based on what you selected. In the below example the app will only show food items which do not have Dairy (D) or Egg (E) as an ingredient.
The letters under the price of each product are the dietary filter tags eg D for No Dairy. Hover over them for their description. Click on them to bring up other products that match the tag eg clicking on V (vegetarian) the app will show you all the other vegetarian items you can choose from.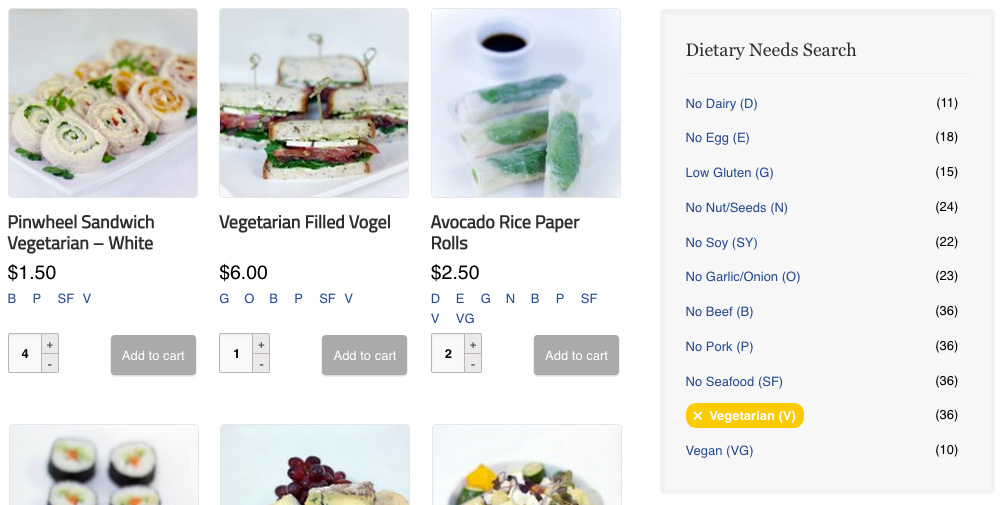 Napkins, Cutlery and Plates
Your catering comes with complimentary napkins. If you require eating utensils, chopsticks and plates, these can be ordered by clicking on the service ware category where you will find a selection of biodegradable options. Note that you will need to order utensils for the individual salads if you require them. There is a handy link to do so in description of each salad.